Tourist places in Switzerland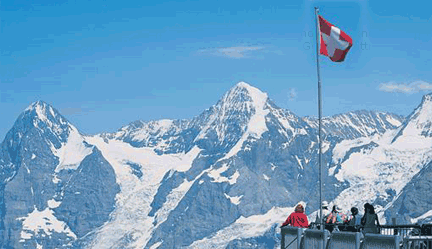 Switzerland is one of the finest tourist destinations in the world and perhaps the most beautiful and charming in Europe. Tourists from different corners of the world come to enjoy the breathtaking views of lovely Swiss countryside and the beautiful Alps. Switzerland is also known for its delicious taste of Swiss chocolates and Swiss cheese. The ski slopes and ski resorts in Switzerland are the winter home of the world's jet set.
There are various tourist places in Switzerland, which one can visit on your tour of Switzerland. Some of the popular tourist attractions in Switzerland are given below.
Geneva: Geneva is a wonderful tourist destination, which has a population of about 175,000. Geneva is located on the southwestern shore of Lake Geneva and is home to many of the world's prestigious organizations. The city has a relaxed and graceful atmosphere.
Zurich: If you are looking for clean air, beautiful scenery and comfortable accommodation, Zurich is the places to visit in Switzerland. You can enjoy the most refreshing natural setting with a large lake, two rivers and tree-covered hills on your tour of Zurich. Zurich symbolizes churches with tall steeples, medieval guildhalls, cobblestone alleys and trickling fountains. The city is also a center for contemporary art and culture.
Locarno: Locarno is set at the northern shore of Lake Maggiore. Locarno is a picturesque city that offers visitors a chance to relax and re-energize their spirit in its many piazzas and outdoor cafes. A ride on the cable car while traveling to Cimetta is a must on your tour of Locarno.
There are various other popular and not so popular but beautiful tourist places of interest in Switzerland, which include Berne, Lucerne, Lausanne, Interlaken, Lugano and Zermatt.